THE MINISTRY OF HEALTH WARNS ABOUT THE USE OF PARACETAMOL TO SELF-TREAT COVID
At the Poison Control Center, Bach Mai Hospital has received many cases of poisoning due to the abuse of drug paracetamol to treat COVID-19. Therefore, people should be careful about medicines spread of unknown origin on social networks, before using any medicine that requires a doctor's opinion, not to use it on their own.
Overdose of paracetamol can cause liver failure, convulsions...
Paracetamol is a non-prescription drug, which means people can buy it from pharmacies to treat pain and fever from common causes or get it treated first before going to the hospital. On the market each country can have up to hundreds of brand-name drugs containing paracetamol as the main ingredient, of which the common content of paracetamol is 500mg per tablet. Alternatively, this medication may be in the form of an tablet, powder, or syrup.
Medicinal products may contain paracetamol alone or in combination with other ingredients such as: opiates (codeine, tramadol), antihistamines (chlorpheniramine), vasoconstrictors to relieve congestion (phenylephrine), drugs cough reliever like dextromethorphan...
If using at the same time or consecutively many products containing the same active ingredient paracetamol (in case the disease does not improve or want to take many drugs to have a strong effect), leading to the total daily dose of paracetamol exceeding the prescribed limit will lead to serious consequences. to overdose and poisoning when do not know.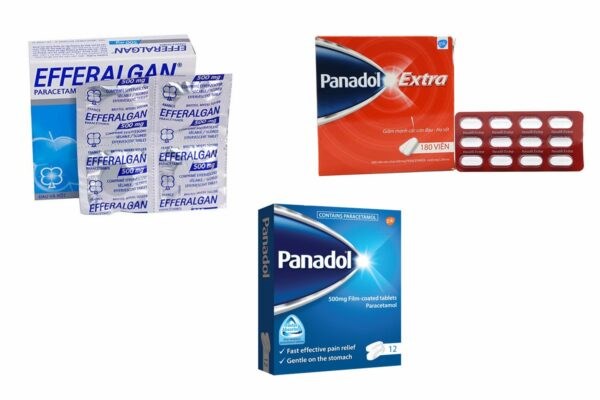 Possibility of poisoning when arbitrarily using Paracetamol
The initial manifestations of poisoning are often subtle, even asymptomatic, or may be confused with the manifestations of the disease causing pain and fever. However, when tested, liver enzymes will gradually increase, starting from the 2nd, 3rd day onwards.
In the case of drug abuse, liver damage may be slower. When the patient has jaundice, anorexia... ie it's too late. When there is severe hepatitis, the patient is prone to liver failure, hepatic coma, then the mortality rate is 50% or more.
In addition, paracetamol abuse can lead to vasoconstriction, hypertension, heart attack, delirium, hallucinations, constipation, intestinal obstruction, convulsions, arrhythmias... For young children, The combined ingredients of this medicine have the risk of causing weak breathing, stopping breathing.
Do not arbitrarily buy medicine
The maximum paracetamol percentage for Vietnamese people of average health and no risk factors is no more than 3 grams/24 hours for adults, and 15mg/kg body weight for children each time. Patients should not use more than 6 times/24 hours. However, in fact, when doctors prescribe medicine for adult patients, they only prescribe 1-1.5 grams of paracetamol every 24 hours (equivalent to 2-3 tablets of 500mg strength). It is best to take the lowest possible dose.
To use paracetamol safely, adults should only take 2 to 3 500mg paracetamol tablets per day. Patients need to know the names and ingredients of the drugs they are taking and use them as directed. Always pay attention to other drugs being used (especially some drugs for tuberculosis or epilepsy that increase the toxicity of paracetamol) and the condition of patients prone to paracetamol poisoning (such as alcohol abusers, weak , weakness, poor appetite, severe infections or debilitating diseases).
According to medical experts, patients infected with COVID-19 all have symptoms such as cough and fever. People do not arbitrarily buy drugs to store, self-treat at home according to information without official instructions from the Ministry of Health. Not only people returning from epidemic areas, but anyone with symptoms of cough, fever, etc., should immediately contact a medical facility for timely instructions.
TS.BS. Nguyen Trung Nguyen (Director of Poison Control Center - Bach Mai Hospital)
(Source: Life Health)