PHARMACEUTICAL MACHINERY MANUFACTURING EQUIPMENT INDUSTRY IN VIETNAM TODAY
I. TRENDING
          The pharmaceutical industry follows the most stringent requirements for manufacturing processes and used equipment also must comply with good manufacturing practices (GMP). As drug development trends change, so do manufacturing processes, much of which can now be automated. The pandemic has impacted equipment demand, the latest technologies to be leveraged in pharmaceutical device manufacturing, as well as the continued improvements and advancements made in dosage forms like solid, liquid, semisolid, injection... be created from biotechnology, single-use technology, continuous production, and digital technology.
 
        Covid-19 is the main topic in 2021. It is a battle that challenges the world of science, apothecary technology, engineering and manufacturing techniques to quickly respond to Covid-19 variants and will continue as so for at least the next few years. The equipment must meet the increasing demand to manufacture therapeutic drugs in different forms, leading to a wide range of needs from laboratory to dispensing, finishing equipment, post-packaging inspection technology to after-sales service.
 
        In addition to Covid-19, drugs manufactured using biotechnology, drugs that treat cancer, or rare diseases that affect only a small group of patients, are still being developed with small batch size requirements and equipment with high flexibility. This trend is accompanied by a demand for the highest quality of products and protection measures. Isolation containment technology with high exposure limit OEB4, OEB5 is becoming more and more popular. Here, the containment device has a very important task of protecting the operator from harmful substances and protecting the environment with increasing requirements.
 
        Digitization and automation are even higher trending topics in the pharmaceutical industry. For example, the use of robots in filling operations or hazardous environments will reduce the risk of contamination from human contact. Robots offer a high degree of flexibility in manufacturing processes. Machine operators no longer need to perform repetitive tasks, which makes processes safer, more precise, more reliable. In the future, more and more robotic solutions will be used; boundaries will continue to change as costs fall and new technologies such as Artificial Intelligence (AI) will flourish, helping to reduce R&D and manufacturing. AI will predict and provide data to help us reduce the use of manual methods, compare, analyze..., increase longevity and of course, bring happiness to everyone.
        In Vietnam, domestic pharmaceutical companies with private or equity capitalization are tending to change rapidly to catch up with foreign "giants", or joint ventures to produce drugs in the pharmaceutical industry. It makes machinery and equipment in the pharmaceutical industry will increase. Devices must meet the most stringent criteria, reducing human intervention in processes and operations, protecting raw data integrity, easy access, flexible batch scaling Activate and digitize important activities to ensure that the quality of batches is homogenized… To do so, the price of pills is certainly not cheap. Especially having to compete directly with external competitors with developed industry and even cheap Generic products from India, the Philippines, Pakistan... So what is the safe investment solution for the Vietnamese pharmaceutical industry when competitors flooded in with a multitude of different qualities?
Automation in Pharmaceutical Manufacturing
II. PHARMACEUTICAL MACHINERY MANUFACTURING EQUIPMENT INDUSTRY IN VIETNAM .
    TTP is proud to be the largest pharmaceutical machine manufacturer in Vietnam up to this point. With over 30 years of experience, more than 200 employees including engineers, R&D product development, QC inspection, QM quality assurance, etc. All of them are dynamic and enthusiastic to create high-quality products that serve the pharmaceutical industry in the best possible way.
      Invested in a factory system with 100% new high-precision CNC machining tools from Japan, Anodize surface treatment technology, passivation, measuring tools, X-ray spectrometer, ... with on the 25 certificates of the INTERNATIONAL
TTP factory meets the quality standard system:
ISO 9001:2015 granted by TUV Rheinland (Germany)
CE safety standard
Fireproof standards ATEX, PED
Compliant with current GMP standards
Conforms to 21 CFR Part 11 standards
Isolation devices with different levels
Modular design, high flexibility, accuracy
Automation, digitization
Satisfy customer URS
Service packages: Profile, appraisal, IQ, OQ, FAT, SAT...

We provide services as:
Consulting GMP EU, PIC/s
Basic construction layout
Provide HVAC, RO auxiliary systems…
Supplying main production equipment by TTP manufactured according to EU GMP standards: Raw material milling system, Mixing line, spray drying, granulating, pellet, finishing mixing, lifting, film coating, shaping, blister, sachet/stick packing, cartoner machine … all self-contained and fully automatic operation.
After-sales services

TTP we are always present and confidently display products at international fairs
ACHEMA - Germany
INTERPACK – Germany
ALLPACK – Indonesia
GULFPACK - UAE
CPHI - Global & Asia
TTP is proud to be a well-developed and fully capable pharmaceutical machinery manufacturer providing machinery and equipment with the most stringent standards.
Currently, more than 1,000 products have been sold to many different countries on 5 continents.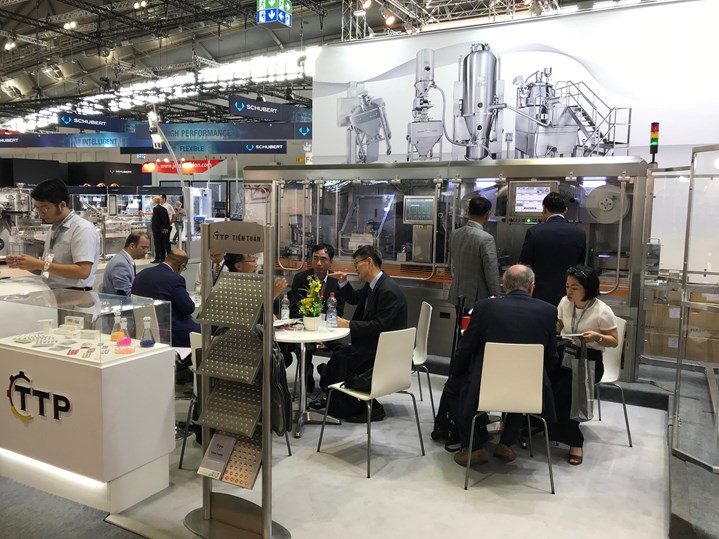 We develop products with high automation, Isolation technology, safety and accuracy. In order to limit outside interference by the software integrated the machine, interoperable operation, barcode, management by Scada system, higher than Auto GMP... Especially in the world today, the trend of drug production Cross-contamination is becoming more and more popular. We have solutions such as cleaning equipment with software with up to 20 stages to optimize the cleaning process and solutions for washing large equipment such as IBCs, Drums, tanks, disassembled parts by washing equipment. specialized,... Here APIs and excipients will be cleaned and removed completely without leaving traces of cross-contamination.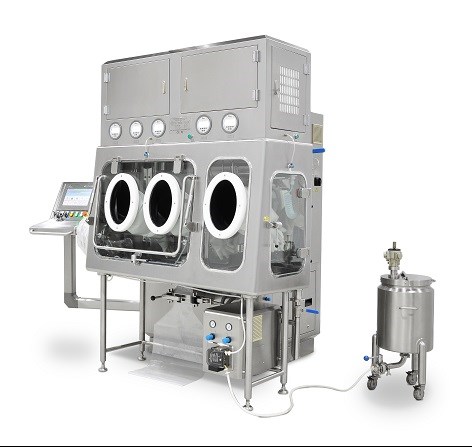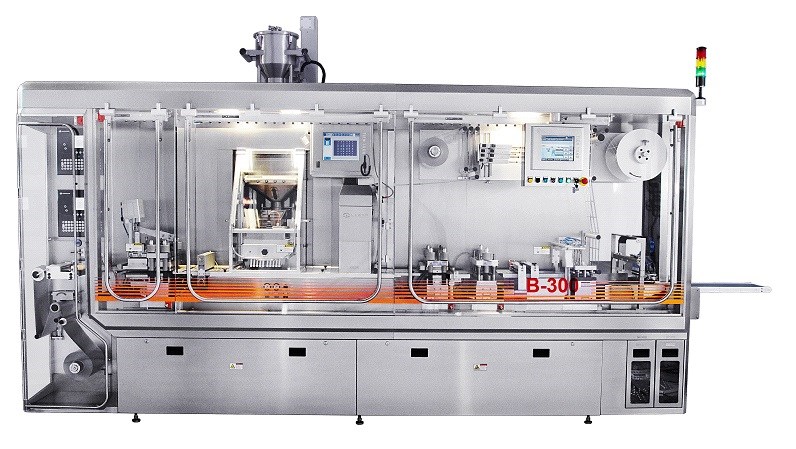 TTP's service is to always take care of customers thoughtfully, support and advise so that customers have a safe and reliable choice when customers have trusted in our products.
III. COVID - CHALLENGES
         The factory with a well-invested quality system, has highly trained personnel, and research machinery and equipment in accordance with current peak standards. Input materials such as 316L stainless steel are imported from developments such as Sweden, motors, pneumatic equipment, inverters, PLCs, and HMIs are imported from Germany and Japan.
        Due to the impact of the Covid-19 epidemic, which disrupted the supply chain, delayed logistics, pushed up prices, input and output conditions were hindered and difficult. With social responsibility, TTP has also made efforts together with customers to do the best and fastest possible to provide its services in sales, as well as in the supply of machinery and equipment, products and services. spare parts to support customers during this difficult period.
        We, TTP are confident with our products, wish to bring the best products with German Technology - Made in Vietnam - Reasonable cost. Provide complete and effective solutions that bring customers more than expected.
​