Quality Systems
QUALITY POLICY
Tien Tuan has been continuously striving for the best since its establishment and successfully positioned its leading image in Vietnam pharmaceutical industry. Not satisfied with what already achieved, the Company keeps pushing itself forward by implementing specific quality policy and setting targets for future operations via a tagline:
" GERMAN STANDARD, MADE IN VIET NAM"
By this policy, Tien Tuan wishes to bring excellence of engineering work together with creativity and diligence of Vietnamese to every product so that machines achieve premier standard in manufacturing industry which is "German standard".
Products are ensured by the most stringent safety regulations, best functional performance and highest level of automation. Tien Tuan commits to offer our customers differentiated product quality with affordable price.
The policy is not only communicated throughout the Company and practiced by all employees but also improved continuously day by day.
QUALITY CERTIFICATE
Tien Tuan is certified to ISO 9001:2015 by TÜV Rheinland Cert GmbH. By adopting this, the Company standardizes all of its business processes including important regulations such as design, manufacturing, programming. As a result, products are always with highest quality and strictly follow customer's requirements.
QUALITY CONTROL SYSTEM ISO 9001:2015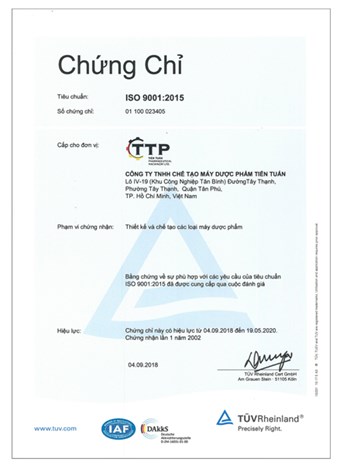 PRODUCT QUALITY CONTROL SYSTEM
CE - ATEX - PED